In case you didn't already know, we offer a couture service at Laura Green. It's different to our 'pre-order', which allows you to make small amendments and changes to pre-existing designs. Choosing couture is an experience in itself.
Our couture service is perfect for you if you're looking to have something completely unique and bespoke. We'll guide you through the process, step by step, making it as seamless and enjoyable as possible. From the initial design stages to the completed look, we'll be with you from start to finish.
So why choose couture?

You might have a very special event in mind that you'd like a one of a kind outfit for. Or perhaps you just want to elevate your wardrobe with something timeless and iconic. We believe that our clothes are an extension of us and our personalities and should only ever make us feel like the very best version of ourselves – and what better way to achieve that than with an item created specifically for you.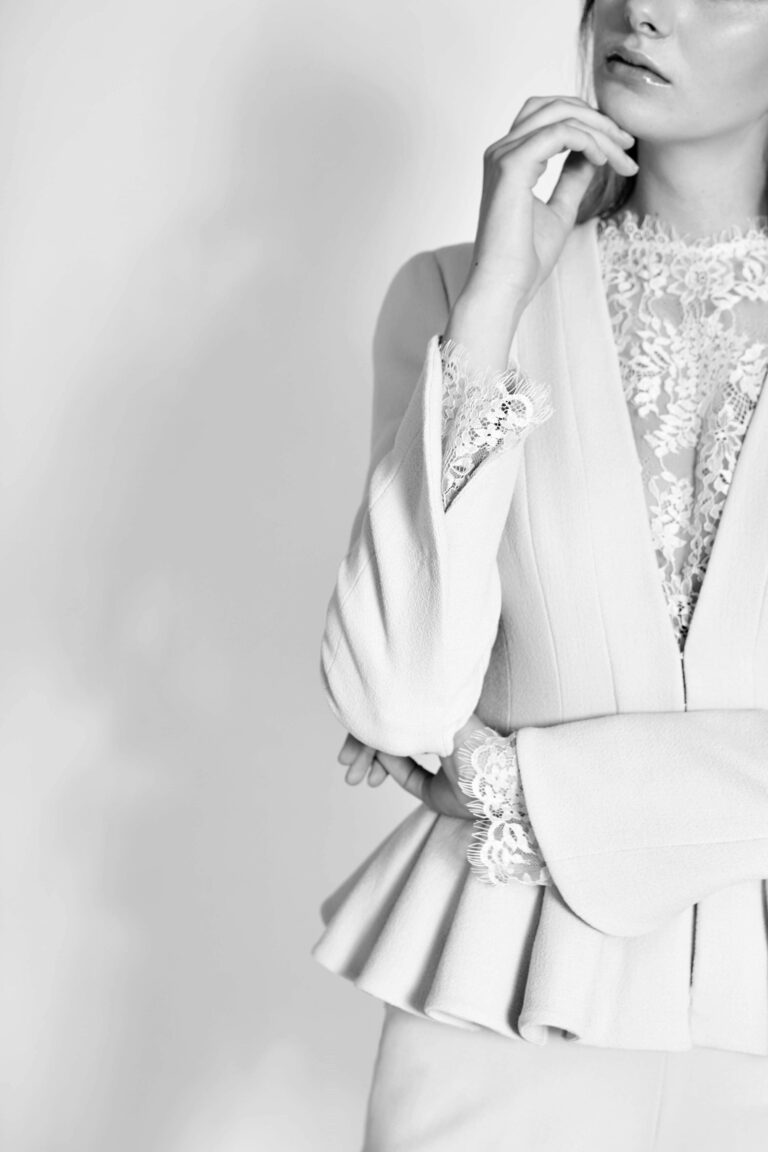 The first step in our couture process is choosing your design. Laura will discuss potential options with you and, alongside her carefully selected team of artisans, will help guide you through which styles or ideas would best suit your figure, occasion or wardrobe. Laura will take any ideas discussed and create a sketch to allow you to fully envision how the final piece will look, and have the opportunity to discuss any further requirements or adjustments.
Next, we'll look at fabrics. We use only the finest fabrics at Laura Green, and will have an abundance of colours, textures and designs to choose from. You'll be able to browse a range of Italian wools, silks, crepes, velvets and many more. As standard, all of our couture creations come lined in tonal silk satin, so every inch of your item will feel as good as it looks.
Once you've decided on a fabric of choice, we'll introduce you to the colour options. The options could well be endless, in this instance, so we'll be on hand to help you navigate what might suit your particular look best. If you're at all unsure, we'll be more than happy to send you either sample swatches of your colour choice, or swatch options to help you get a feel for how certain colours might fit into your wardrobe or pair with any existing outfits or accessories.
Once you're happy with your colour choices, we'll begin the fitting process.
For us, the most important part of your bespoke item is making sure it fits perfectly and creates the silhouette you desire. We'll produce a completely unique pattern for you, based on your measurements and to fit exactly as you like. There will be an initial fitting, which we call a 'toile fitting', where you'll be able to try on an early version of your creation so we can be certain that the shape and style is exactly as you'd envisioned before proceeding further. Depending on the complexity of your order, you will be invited to attend a further three fittings so that we can confirm that the piece is tailored to your liking and fits perfectly.
It is at this point that your Laura Green item becomes your own. We hope you love it as much as we love making it.
For more information about our bespoke service, or to book a consultation, contact us here.