Laura Green is a designer, entrepreneur and mother with a life-long penchant for beautiful clothes. This is her story.
After leaving the Fashion & Arts institute in 2006, Laura Green was offered an internship at Vogue in New York.
During her time there, Laura's responsibilities included assisting top Editors, being part of the magazine's photoshoots shoots with Grace Coddington and helping the wider creative team. After a short while, Laura's natural gravitation towards fashion was noted, and she was quickly promoted to Wardrobe Manager where her main role revolved around the management of the outfits and individual pieces for photoshoots and soon followed close encounters with the designers and collections that had long caught her eye.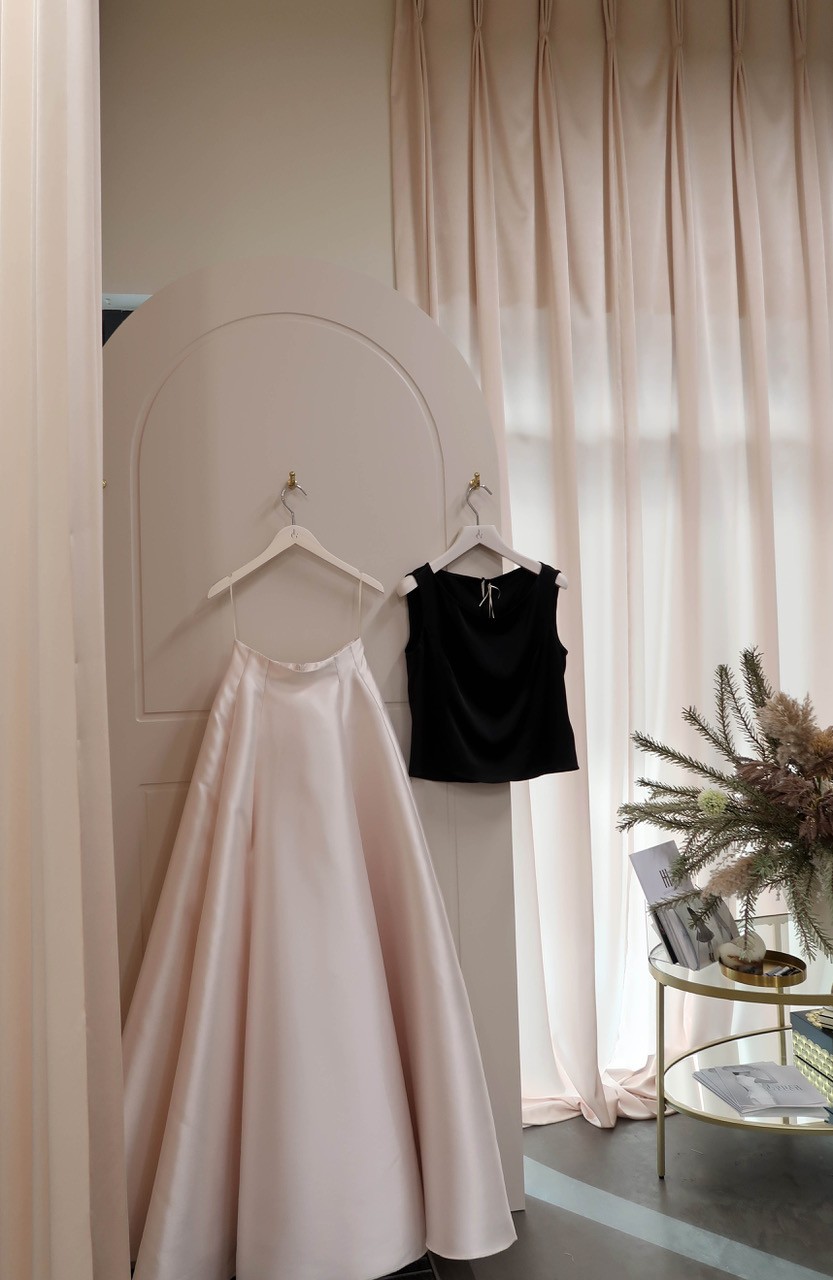 When her internship came to an end, Laura felt that gaining more experience in luxury clothing creation was the most natural career progression, and in doing so she moved back to London to start an Atelier position for a Heritage British brand. During the decade she spent with this couture house, Laura covered everything from managing the full team of artisans, carrying out client fittings to managing and designing collections.
It was at this point that Laura had her first baby and, understandably, her priorities started to shift. After going back to work when her daughter was 3 months old, it became apparent that Laura wanted to try something new; something where she could be more flexible with juggling the career path she loved and being a mother. Laura Green London, was born in February 2018.
During the first year of growing her brand new business, Laura welcomed her second baby in 2019. Laura continued to channel her energy into pushing the business forward, and in doing so very quickly gained speed with exposure, new clients and a blossoming team.
A huge part of what Laura Green wanted for her business was to build a team that loved working together and create a learning haven for both young and experienced creatives. The vision was to create a positive and supportive work environment for everyone involved and, as a result, a brand that grows from strength to strength. To this day there is no denying the Laura Green family – each of her member of her team is passionate, committed and vital catalysts to the collections produced.
Laura Green London dropped the 'London' and became Laura Green in 2022. With customers and clients all over the world, it didn't make sense to restrict the brand name to just one city. Saying that, it is indeed in London where the magic happens. Laura's Atelier and showroom are both in London, and it is where the full team come together to design and create every piece of Laura Green clothing.
Longevity is at the core of all we do, and we know that in today's fast fashion world, there is a distinct craving for sustainability. Laura Green works on a considered basis, hand-creating each item to order so that nothing is bulk-made or wasted. Alongside our ready-to-wear collections, we offer a pre order service which allows you to make small adjustments to any of our pre-existing designs to make your Laura Green piece feel that bit more 'you'. We also offer a couture service, where we'll design and tailor an item specifically for you. We like to think of our creations as investment pieces – something you'll buy for yourself, wear endlessly and inevitably pass on these timeless pieces for generations.
Laura Green continues to thrive and grow with each collection, client and passing month, and we can't wait to see what happens next.
To subscribe to our newsletter – please scroll to the bottom of this page.